Pink Patch Project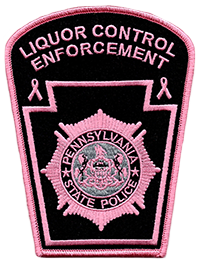 The Pennsylvania State Police, Bureau of Liquor Control Enforcement is proud to join the Pink Patch Project. We will be selling our Pink Patch, $5 for mini hat patch or $10 for standard shoulder patch, to raise awareness and to support those affected by Breast Cancer. All proceeds will benefit the Friends In Pink. The Pink Patch Project represents over 100 law enforcement agencies across the United States that have partnered together to combat Breast Cancer by raising public awareness and to raise funds for breast cancer research, treatment and support. Join with the Bureau of Liquor Control Enforcement in wearing their Pink Patch for the month of October. To purchase a Pink Patch contact BlcePinkPatch@gmail The Pink Patch is also available to purchase thru Friends In Pink and will be available for purchase at all upcoming Friends In Pink events.
To contact Pink Patch Project email BlcePinkPatch@gmail
For further information go to the facebook page
Please follow us on Facebook and Twitter for updates.
February 10th - Comedy Night
Join us for the second annual Friends In Pink Comedy Night featuring:
Mike Stankiewicz - his conversational style makes you feel like you're riding the bar stool next to him.
Grover Silcox - appears weeknights on WLVT PBS39 and every Thursday morning on WMGK 102.9
And Roxborough's own Chris Morris, Star of Kids In America, and The Chris and Dad show.
Immaculate Heart of Mary

815 Cathedral Rd

Philadelphia, PA 19128

View Flyer
October 2018 - Craft and Vendor Fair
Looking for crafters, vendors, and food trucks for our annual fall funfest.
Gorgas Park

6300 Ridge Avenue

Plymouth Meeting, PA 19128
Contact us for additional information.
October 2018 - Friends In Pink 5k
Join us for the third annual Friends In Pink 5k Walk/Run.
Location: Manayunk Tow Path – Start and Finish at Green Lane to Shawmont turnaround.
Costumes: Costumes are optional – But for those who chose to "dress up" Prizes will be awarded.
Entry: $25 adults, $15 children under 15 until 10/19/17. $5 additional Day of Run
Race Results: Race will be professionally timed by the Bryn Mawr Racing Co.